---
Chit-chat with Charlie Boudreau, Executive Director of the Festival Image+Nation
Written by Anthony Payá on 18 November 2022
Canada's first and oldest LGBTQueer film festival Image+Nation unveils an exceptional hybrid format program for its 35 ᵉ edition. Meet Charlie Boudreau, executive director of Image+Nation.
In 35 editions, how has Image+Nation evolved and how have you, personally, seen the festival evolve?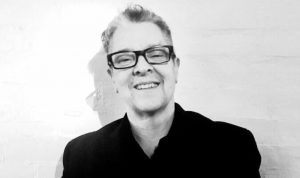 All queer festivals are born from the same reason and Montreal is no exception. The images that existed historically of queer people, we can say historically, in cinema, were not particularly positive. So, at some point, in conjunction with the women's liberation movement, the black liberation movement, there was the gay and lesbian liberation movement, and with that, we wanted to tell our own stories. So the first few years, it was little meetings. Everyone was totally pissed off to see each other on screen. Often homemade films, as they say VHS. But at least for the first time, we told each other. As they say fast forward… 35 years later, now, we're showing films at the festival that are nominated for Oscars that have won awards in Cannes, Berlin, Venice. We have films from many parts of the world, and especially from places that are seen – with good reason – as not very advanced in terms of human rights. And there are queer-themed films coming out that are not at all what you might imagine. It breaks down the preconceived ideas that we have in some countries, especially in the East. So it's a pleasure. It's been a wonderful journey because I've been here almost since the beginning. I was a volunteer at the beginning at the programming and I took over the direction a few years later and I saw the evolution, we moved with the evolution, we made the festival grow to reach the pandemic … and turn around like everyone else. We did it, we made a platform, but it was not original in time. What is original is that we are the only ones to keep it, because it is important. We have always wanted greater accessibility to these films, to these stories, and for a long time this was not possible. Now it is. But it is absolutely necessary to keep a platform for people who cannot, for whatever reason, come to the cinema or who do not live in Montreal, to see these stories and share them with their friends, with their families, with their colleagues. So that's all that's happened in 35 years.
We're seeing more and more people turning to online platforms, forgoing the cinema and the theaters. Possibly because on online platforms there is more and more beautiful representation of LGBTQ+ communities. Why is an LGBTQueer film festival still important to us today?
But, even though thankfully queer characters are more and more present in what I would call a general narrative, queer people make the same kind of film, conversely also, make a somewhat general narrative to include queer characters who just have a life and who have done for example… A burglary… Or who lost their job… Or that it's not a coming-out story. In the end to say that it is not a misery to be queer. They are queers in another story. So the reverse is done on both sides, that's what's positive. It goes towards the universality and that's what's important. But the fact remains that there are a lot of films that are more specialized, more researched, that will never be on Netflix and that will never be on television. And that's the reason for a festival. We're a queer festival… there's the Festival International du Film sur l'Art, Festival Black or Massimadi. Our specialty is our focus. So we look for detail, we look for countries, we look for a great representation of diversity. So for me, specialized festivals are, as they say, rocks. That's how we're really going to get to know people that we're going to focus on. And if you're part of that group, it's really representation of everything that you are, because we're not just one group and one community. We are many different people and identities within that.
But the fact remains that there are a lot of edgier, more researched films that are never going to be on Netflix and never going to be on television. And that's the reason for a festival.
Another reason for having our festivals: that we do it, because we are part of these communities… I notice that it's been a bit fashionable for the last five-six years (especially in Quebec) to encourage diversity, in generalist festivals. And it's a problem, because there have been a lot of festivals that have had a lot of trouble getting [financial] support. So we support that diversity in mainstream festivals, and we think that all voices are represented… But to go back to the point I just made. There's nothing [better] as a specialized voice. Even though we're everywhere, we're on TV more and more, we're in movies more and more, we're in festivals more and more… it's always going to be important to have a specialized festival, in my humble opinion.
The opening film Rosie, which screens at 7 p.m. on November 18 at the Imperial, takes us to the margins of 1980s Montreal with an Indigenous story. It is the first feature film by writer, director and actress Gail Maurice. Can you tell us a bit about it?
People may have already seen Rosie, but the short film, which was presented as part of Queerment Quebec at the PHI Center. And so, it's the feature film of the short film, which tells the story of a family that has to invent itself, in the face of the difficulties that life and society can pose. I don't want to say too much about it because I like it when people discover… because it's an excellent film. But what's especially great about that night is that it's the Quebec premiere and Gail Maurice, Melanie Bray who is the producer and the lead actress, so all the actors, everyone is going to be there. And I, which almost makes me swoon… Alanis Obomsawin is going to be there to introduce the film with Gail and Mélanie, and have a conversation about the film. So for us, it's a really big night. It's really an incredible honor to have this woman who is so important to our culture come to our house. And it's going to be fun. We're going to have fun too. We're taking the whole evening at the Imperial, there will be drinks, we will have fun! (laughs)
You present many Canadian films, but we travel also a lot with Image+Nation. And also Ukraine, with a retrospective of Ukrainian LGBTQ cinema presented by the Molodist Kyiv International Film Festival. Can you tell us a few words?
What's interesting is that we talked to Bohdan Zhuk, who is a curator who created this program for us, it's actually -to our knowledge-, the first retrospective of Ukrainian queer cinema in the world. It's never been done. So it paints a picture of a very complicated culture that has been under Russia's feet for a very long time. We see an interesting, complex, subtle, evolved cinema through all this. So we have a film from 1964, Shadows of Forgotten Ancestors, another from the eighties, another from the 90s Ivin A. and a film from last year Stop Zemilia. That gives us a portrait of the queer presence in the Ukrainian culture for about 60 years. Bohdan Zhuk will be on hand to discuss, introduce the context, the culture, talk about the film and leave time for a discussion with the audience. I love Ukrainian cinema, I can never watch movies from Ukraine in Montreal. In our other city which used to be multicultural (laughs), impossible to find. So this is an opportunity to discover the cinema of a country that is rarely on the screen, or not at all on the screen in Montreal. We have already collaborated with this festival, and with Ukraine. We have presented Quebec films there, but we will present here a big focus, a big retrospective to show our support to our friends and colleagues who are under the aggression of Russia in their country. And our thoughts are here and we are doing what we can at Image+Nation to help them as much as possible to make their voices heard and also to send our support. For example, we want to do an international panel with the Kyiv International Short Film Festival which is at the same moment than us. As they don't have electricity there, I said OK, we will do it here. So I talked to the PHI Centre to do it with them. So what we're doing is to make a live streaming from here, so even though they're there, the infrastructure is here. We're trying to think of this kind of way to collaborate and help our colleagues who are having a little bit of trouble doing a festival, but even in wartime, they're doing a festival… with no electricity. We say to them: bravo! We are there to help, when we can.
And obviously Iran, when we started to program the festival intensively… In the last stages, there was news from Iran and we said to ourselves that we absolutely have to do something to show support and also to make known this cinema that we never see here. And we still have submissions from Iran, but they are scattered throughout the program. We've made it into a curriculum, which is going to be available online, so it's discoverable by everyone.
What's your favorite little nugget for the 2022 festival?
Oh no, that's the worst question ever (laughs). I love them all, they're all my little kitties! (laughs), but it depends so much, so much on taste. You have to remember that a film that is a bit generalist, extremely well made, is worth talking about. For exemple with The Blue Caftan which is a Moroccan film, with English subtitles. It is also Morocco's submission to the Oscars this year. It is a truly masterful film, which is beautiful, which is touching.
🇲🇦 Morocco has selected 'The Blue Caftan' to represent the country at the Oscars – a rare official nod to gay relationships.

🎞️ The film follows Halim who explores his homosexuality after developing feelings for a new employee at his family's caftan shop.pic.twitter.com/p0jrIuTRQy

— Openly 🏳️‍🌈 (@Openly) September 29, 2022
I don't like to give scoop, but it's really a film that revises a little the family, the notion of love and how we share. It's always better to go visit the website and see what you like. Because we have the best of all genres, but not all genres appeal to everyone. There is Queerment Quebec which is a selection of Quebec shorts which has been at the PHI Center for 10 years, but the selection is 22 years old. It's an evening with the filmmakers, where we present the films, and we spend time talking with the public. It's very friendly and a great way to discover local productions. We prepare focus in the festival, "emerging voices" for example. These are the first films from countries that we often hear little about and that often have human rights that are a little complex. There is the "Indigenous focus", there is the "Media Canada focus" for Canadian films, there are others… There is also something that we must not forget, that we present documentaries that are really, really important and relevant to us, because we must not forget our history. And this year, we didn't miss a beat. I'll let you discover the "avant-garde" section to see who we'll be presenting this year and what history we'll be discovering at Image+Nation.
---
Reader's opinions
---